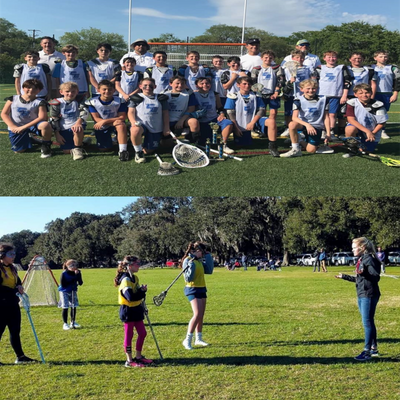 Coastal Empire Spring Boys & Girls Rec Teams!
Intermediate & Experienced Boys and Girls in 1st-8th Grade
Our local teams are for intermediate and advanced players. We stress the fundamentals and subtle nuances of the game over "winning at all costs". We believe in hard work, unselfish play, and building character.
Our seasoned coaches want to teach the technical skills of lacrosse while providing an opportunity for personal development. We believe that lacrosse should be fun for the players but provide a foundation for building character that will instill teamwork, discipline, integrity, sportsmanship and respect to other players, coaches and parents.
We are committed to multiple practices a week, games on the weekends, and some travel to Jacksonville and Atlanta.
Boys 7/8th Grade Teams $250 Plus $30 (Yearly) US Lacrosse Membership
4-5 Practices Per Week with Full Schedule of Games
Boys 5/6th Grade Teams $200 Plus $30 (Yearly) US Lacrosse Membership
3-4 Practices Per Week with Full Schedule of Games
Boys 3/4th Grade Teams $150 Plus $30 (Yearly) US Lacrosse Membership
2-3 Practices Per Week with Schedule of Games
Boys 1/2nd Grade Teams $125 Plus $30 (Yearly) US Lacrosse Membership
1-2 Practices Per Week with Schedule of Games
Girls 6-8th Grade Teams $200 Plus $30 (Yearly) US Lacrosse Membership
3-4 Practices Per Week with Full Schedule of Games
Girls 3-5th Grade Teams $150 Plus $30 (Yearly) US Lacrosse Membership
2-3 Practices Per Week with Schedule of Games
Girls 1/2nd Grade Teams $125 Plus $30 (Yearly) US Lacrosse Membership
1-2 Practices Per Week with Limited Schedule of Games