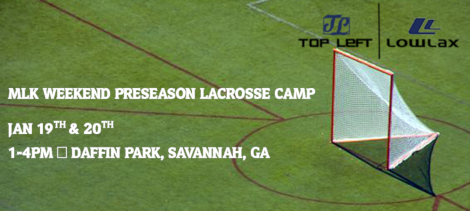 MLK Weekend Lacrosse Camp
Advanced Preseason Camp for Boys and Girls in Grades 6-12th
Beginner Camp for Boys and Girls in Grades K-8th
Shake the dust off your sticks and cleats and get ready for the Spring Season with the Best Coaching Staff in the Coastal Empire!
Advanced Sessions for Offense and Defense!
Offense: One on One Techniques to Beat Your Man and Score!
Including: Ball Control, Transition, Shooting and Field Awareness
Defense: One on One Shut Down Defensive Techniques!
Including: Slide Packages, Transition, Checking and Schemes
Never Played Lacrosse Before? We have Coaches for You!
This is a great camp for beginner's to try the sport out before making a decision to play in the spring!